This is my first post on
Meteoroids
and I am going to help you guys catch a
Meteor Shower
. In 3 days time you can catch
Leonids
, on
17th November, 2008
. Before guiding you through that let me explain what a meteoroid is.
Meteoroids
are tiny rock particles found in space. It may be broken asteroids or remains of a comet. It is smaller than asteroids and they do not have a definite orbit. When a meteoroid enters the Earth's Atmosphere it is called a
Meteor
. And when it hits the ground it is called a
Meteorite
. Smaller meteors gets burned up when it reaches the atmosphere hence not all meteors reaches the ground. Meteors are more famously called as '
Shooting Stars
' or '
Falling Stars
'.
Meteor Shower is an Astronomical Event when many meteors are observed at the same point of region in the sky on the same night. If the night sky is clear and if the moon is not too bright, you may even catch up about 50 meteors. Let us see what causes the Meteor Shower.
When a
comet
moves closer to the Sun, some of its ice particles and debris remains. When Earth passes through the same region in space most of the debris fall into the Earth's atmosphere causing Meteors Showers. This is an annual event. Every year when Earth passes through the same region you can notice many meteor showers.
One such Meteor showers can be noticed on
17th November
. This Meteor Shower is called as
Leonids
. Leonids occur every mid november. As mentioned earlier all the meteors appears to come from the same point on the sky. In this case all the meteors appear to come from the constellation of Leo, hence the name. This can be easily explained by this picture.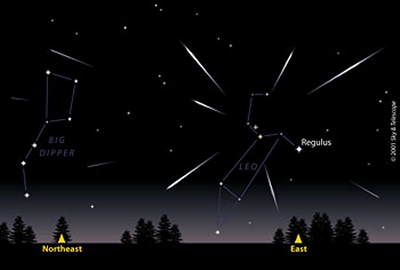 The above picture shows the constellation of Leo and how the meteors appear to come from the same point.
So wake up very early on the morning of November 17th, and keep looking into the sky near the constellation of Leo. Use
Stellarium Software
to help yourself find the constellation of Leo. At an average you may spot
10 to 15 meteors an hour
. Even if you cannot spot Leo, just keep looking up at the sky between
3:30 am until sunrise
. You should be able to catch quite a few meteors.
NOTE:
You need to be really patient if you want to catch some meteors. Hope the clouds and the Moon won't spoil the show. And the meteor can be quick that you can easily miss it. So watch carefully.
View this video to get an idea on how you actually see it. Note that this is a fast forward.
I haven't seen a Meteor yet. This is the first time I'm going to hunt for meteors. I hope I'm successful and you too.